Commercial
Natural Gas / Propane Water Heaters
Natural Gas & Propane Water Heaters for Commercial and Industrial Applications
Water Heaters account for almost 10% for commercial and institutional operations. Choosing the right one is an important decision.
ATL-REFAC Limited has the expertise to guide you in choosing the unit that meets your needs for energy efficiency, BTU/hr capacity, and peak demands for hot water.
We sell, service and maintain all the top brands, including Rheem, Bradford-White, Superflue, Rinnai, Navian and Viessmann Indirect. For Commercial water heaters we also offer A.O. Smith. Our skilled technicians will help you choose the right water heater for your particular situation:
Considerations When Choosing A Natural Gas/Propane Water Heater
Natural Gas vs. Propane
Natural Gas- Models come in various sizes, types and efficiencies. They can be vented through a chimney or wall; and can provide hot water during power failures if they have continuous pilot lights. They require adequate airflow for combustion.
Propane- These models have the same pros and cons as natural gas units but propane is a more expensive fuel. Units require a dedicated storage tank and scheduled fuel delivery.
Standard Tank vs. Tankless Water Heaters
A standard type of water heater has a storage tank that is kept hot with a thermostat. The hot water is ready instantaneously. A tankless water heater heats water as it's needed.
ENERGY STAR™ Water Heaters provide the best in energy efficiency and ultimately will save you money, while being more environmentally friendly. We carry a range of ENERGY STAR™ products. Be sure to ask us about them.
Be sure to ask our trained staff how we can help you. Contact us today!
Our service area for natural gas and propane applications is Halifax Regional Municipality and surrounding areas.
Please contact us today to find out how we can help you!
Maintenance Plans
Regular maintenance is an investment that yields tangible returns:
maximum energy performance
reliability, and
overall lower operating costs.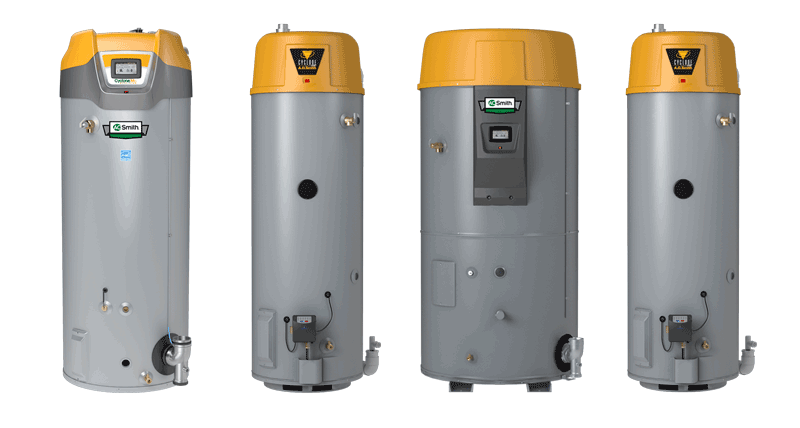 AO Smith Gas Fired Water Heaters
The Cyclone series of gas fired water heaters meets a range of needs from light duty to heavy duty high volume hot water requirements.