Residential
Daikin Ductless Mini-Split Heat Pumps
We Sell and Install Daikin Ductless Heat Pumps
Daikin produces a wide range of heat pumps suited for our climate, capable of keeping you cool in summer, and warm, even in the coldest of winter days.
We install both single zone and multi-zone ductless heat pumps ... whatever your needs, there is a Daikin heat pump right for you.
Heat Pump Maintenance Packages
Why spend time maintaining your heat pump, when we can do that chore for you?
We have a maintenance package just right for you!
Heat Pump Maintenance Packages
Single Zone Ductless Heat Pumps
Daikin's single zone ductless heat pumps are ideal for the temperature control of a single room or for serving as a supplement to your existing heating/cooling system. They are small and unobtrusive indoors, and are paired with a quiet and compact outdoor unit.
Single zone heat pumps are a great way to keep a small office, studio, or workshop toasty warm in the winter and comfortably cool in the summer.
Multi Zone Ductless Heat Pumps
Temperature control systems are most efficient and effective when they allow users to independently control the temperature in different rooms of a home.
With available wall-mounted, concealed slim-duct, ceiling cassette, and floor-mounted indoor options, Daikin heat pumps come in enough varieties to ensure that there is a solution to any home heating problem.
Our Most Popular Heat Pumps
Daikin Cold Climate Aurora Ductless Heat Pumps
Redesigned to withstand extreme weather conditions, the Aurora series of heat pumps is an excellent choice for Atlantic Canada climate. These heat pumps come in single zone and multi-zone. And you have a choice between a wall-mounted unit or floor unit.

With a wide range of wall-mount 'head' options, the Aurora heat pump can satisfy almost any heating and cooling requirement.
These ENERGY STAR® compliant units heat pumps are our most popular selling residential units.
More Daikin Ductless Single Zone Heat Pumps
We also sell and install these ductless single zone Daikin Heat Pumps.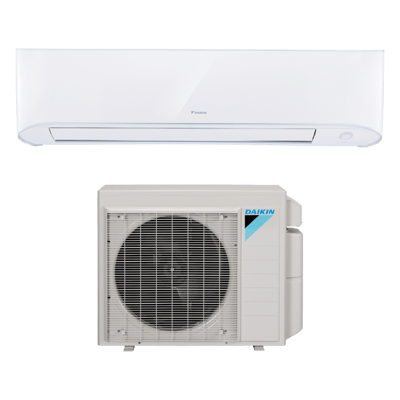 17 Series Wall Mount
17 Series single zone inverter wall-mounted systems provide energy efficiency and comfort control with an affordable, cost-saving solution.
These systems feature streamlined, wall mounted indoor units paired with quietly compact outdoor units.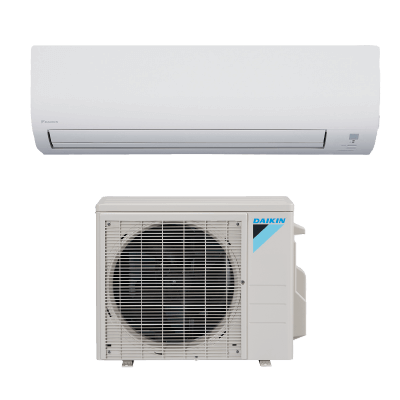 19 Series Wall Mount
Ideal solution for spaces with primary living areas, rooms with poor air flow, renovations, basements, attics, garages, and home add-ons.
Wall-mounted units are simple to install and can be placed subtly, high on a wall, where they do not detract from your décor and operate very quietly.
Daikin 19 Series is offered with an outstanding 12-year limited warranty*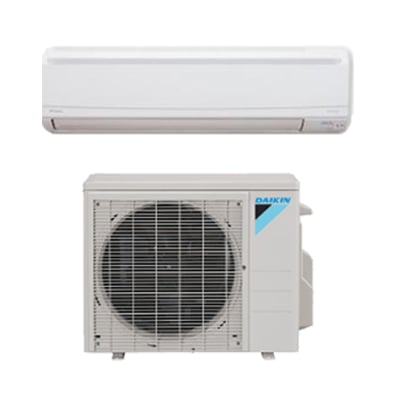 LV Series Wall Mount
LV Series is a feature-packed, intelligent wall mounted system that includes an intelligent eye for energy savings and horizontal auto swing outlet fins for 3-D airflow comfort.
With up to 24.5 SEER level, LV Series has been awarded the ENERGY STAR® Most Efficient Mark in 2017.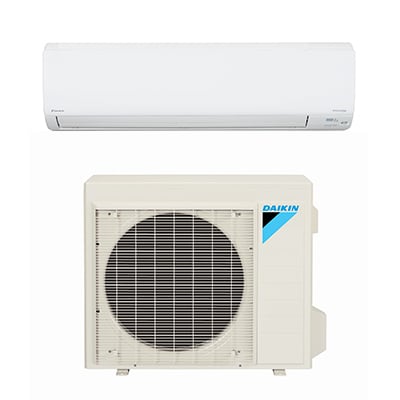 NV Series
The new NV Series models provide an improved, modern designed indoor unit, enhanced overall performance as compared to previous models.
The new NV Series will provide cooling efficiency ratings of up to 17.5 SEER and up to 9.85 EER, along with heating efficiencies of up to 9.3 HSPF.
More Daikin Ductless Multi-Zone Heat Pumps
We also sell and install these ductless multi-zone zone Daikin Heat Pumps.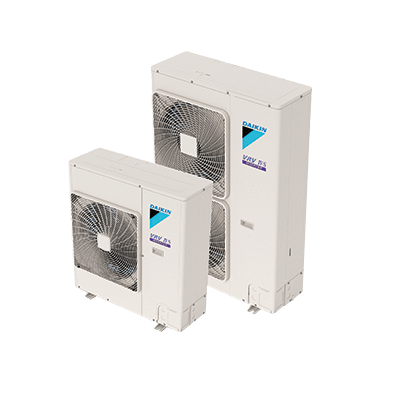 VRV IV-S Series
Daikin's VRV IV-S Series is available in smaller 3, 4 and new 5-ton capacities with a 208-230V, single phase power supply.
A maximum of 6 indoor units can be connected to the 3-Ton system, up to 8 indoor units can be connected to the 4-Ton system and up to 10 indoor units can be connected on the 5-Ton system.
The versatility of VRV IV-S Series makes it ideal for most residential projects — multi-family townhouse, condo or single-family home.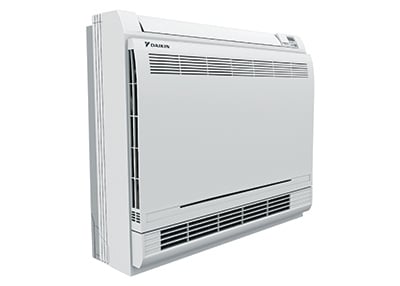 FVXS
Multi-Zone Indoor Unit
Floor mounted units are simple to install and can be setup in various configurations, on the floor or hanging low on a wall. Its low height enables the unit to fit beneath a window. The airflow distribution pattern of Daikin's floor mounted unit is ideal for heating a space, and is a perfect replacement to traditional radiant systems.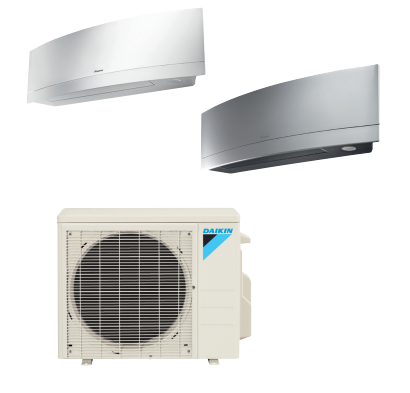 Emura
Daikin Emura was designed to perfectly balance technological leadership and the beauty of aerodynamics.
The next generation of home air conditioning is here, offering smart technology within a sleek, curved silhouette.
Daikin Emura air conditioners are designed to satisfy a uniquely "Designer" sense of style. Offering a sophisticated solution for contemporary interiors, the new Daikin Emura combines form and functionality to create an icon of contemporary climate control.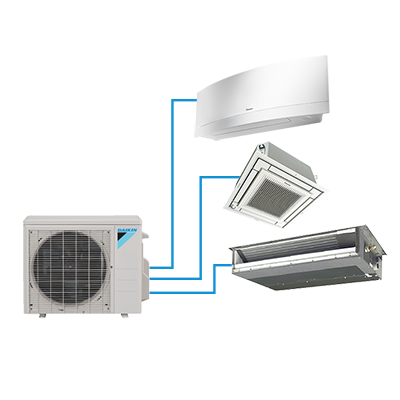 Multi-Zone 2, 3, 4 zones
Daikin's Multi-Split Systems are ideal for multi-room applications desiring individual room comfort in a space-saving design.
With the ability to connect two, three, or four indoor units to a single outdoor unit, over 1,000 combinations are possible with the choice of wall mount units, slim duct units, ceiling cassette units or a combination.
Systems offer energy efficiency levels up to 20.2 SEER and 12.5 HSPF for enhanced home comfort and energy savings. Suitable for both new build and renovation projects, Daikin Multi-Split Systems are the smart, reliable solution for your home.