Residential
Heat Pump FAQs
Do heat pumps work when it is really cold?
Recent improvements in heat pump technology means, yes, heat pumps can generate heat at low temperatures.
The average winter temperature for the Halifax area is approximately -12C. The Daikin Aurora heat pump line works efficiency down to -25C.
The Aurora will keep pumping out heat when it is well-below average cold!
Are heat pumps noisy?
The outdoor units have compressors which do have an audible noise when running. The decibel rating varies with the type and size of the unit.
Depending on the placement of the exterior unit, the sound of the compressor is about the same as a typical indoor furnace.
For super quiet operation, we recommend the Daikin FIT™ Whole Home system. This amazing unit is virtually silent when running.
Do heat pumps need regular maintenance and cleaning?
Yes, heat pumps need cleaning like any equipment that handles air. Dust, pollen, and other particulates can build up on the filters, and inside surfaces.
We have a handy guide on how to do your own basic cleaning of your mini-split heat pump. Download our: Ductless Heat Pump Care and Cleaning Guide
Beyond basic cleaning of the interior unit, the exterior unit needs maintenance too. ATL-REFAC offers maintenance plans to help keep your heat pump working at maximum efficiency.
View our ductless (mini-split) maintenance and cleaning packages here.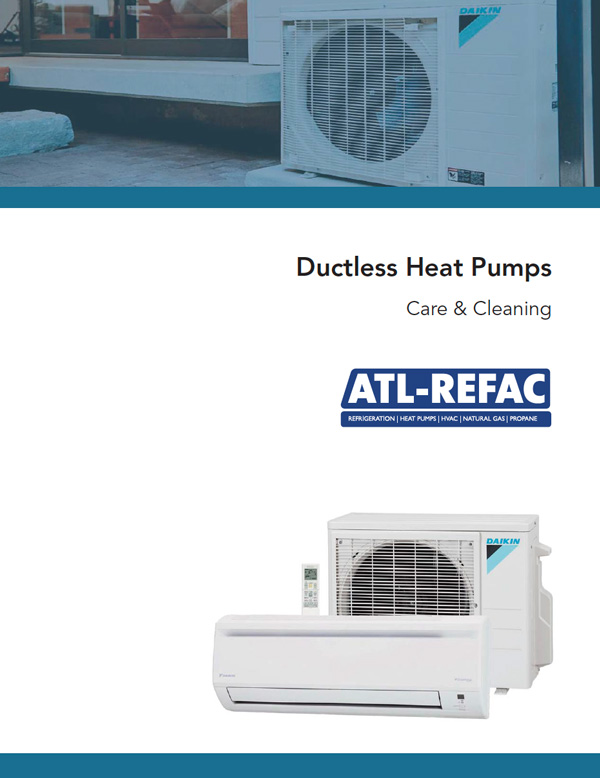 Cleaning Your Heat Pump
We have a handy guide on how to clean your ductless mini-split heat pump.
Heat Pump Cleaning Guide